It is well known that for decades asbestos was used worldwide in an overwhelming number of construction and industrial applications, as well as in many consumer products.  Unfortunately, exposure to asbestos can cause debilitating lung diseases, including mesothelioma, an aggressive cancer of the lungs for which there is presently no cure.  Accordingly many organizations have studied where and how asbestos was previously used in an effort to estimate the prevalence of asbestos related diseases.
Asbestos Use and Exposure in US Pacific Islands
I recently read in the International Journal of Occupational and Environmental Health, the World Health Organization (WHO) investigated the past use and potential asbestos exposure in the US Pacific Islands which consists of American Samoa, Commonwealth of the Northern Mariana Islands, Federated States of Micronesia, Guam, the Republic of Marshall Islands, and the Republic of Palau.  The WHO's Regional Framework for Action for Occupational Health 2011-2015 calls for a collaborative effort in the US Pacific Islands to effectively eliminate the threat of asbestos in today's society.  Understanding where and how asbestos exposures have occurred is key to this effort.
The data search focused on the environmental presence of asbestos, where potential exposures occur, and related diseases.  Although the data is limited, it is clear that the potential for asbestos exposure in the US Pacific Islands is significantly higher than previously thought for a number of reasons.
Asbestos Use at Shipbuilding Facilities
One of the primary sources of asbestos exposure stems from the fact that shipbuilding facilities were located on some of these islands.  As we know from our own experience in the United States, prior to the mid 1970's, asbestos was heavily used in the maintenance and repair of ships.  The islands of Guam and the Commonwealth of the Northern Mariana Islands served as active military ports during World War II.  Guam maintained active shipbuilding facilities even after World War II.  Both military and civilian workers at these sites were likely exposed to asbestos.
Data Underestimates Asbestos Disease
Professionals involved with the study concluded that the existing data probably underestimates the actual prevalence of asbestos diseases such as asbestosis and mesothelioma.  This under reporting is a result of substantial gaps in the information regarding asbestos exposure, consumption and disease in the US Pacific Islands.  However, there is sufficient evidence that confirms asbestos is and has been present on these islands for decades.  If this gap in asbestos related data continues, it will hinder the efforts to regulate and reduce the health effects of asbestos.
Asbestos Exposure Cause of Mesothelioma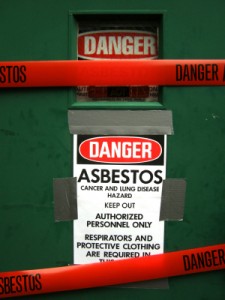 Asbestos exposure is the cause of mesothelioma, a rare cancer caused by the inhalation asbestos fibers.  Asbestos insulation was heavily used in the construction, repair and maintenance of US Navy vessels. Many asbestos-containing materials were also used in the construction of military and civilian buildings in the 20th century, as asbestos was an excellent fire proofing and insulating material.  As these buildings begin to deteriorate, need repair or are destroyed, the risk of asbestos exposure still remains prevalent in today's society, including in the US Pacific Islands.
Mesothelioma victims typically do not begin to show symptoms of the disease until 10 to 40 years after the initial exposure.  This latency period in the disease may be hindering countries such as Asia, India and the US Pacific Island in keeping accurate records of asbestos related disease and exposure.  Most people diagnosed with mesothelioma are typically in their 50's or 60's and only start to show symptoms in the later stages of the disease.  Sadly, there is currently no cure for this devastating disease.  For this reason prevention and awareness of asbestos is imperative in these countries.
Asbestos Awareness & Prevention
The Galiher Law Firm has been representing victims of mesothelioma for over 30 years.  I have been a strong advocate of the awareness and prevention of this deadly disease.  One of the keys to someday eliminating this terrible disease is prevention of asbestos exposure.  My law firm and I commend the World Health Organization for all of its efforts to raise awareness to prevent and eliminate asbestos from many countries.