As an attorney who represents clients with mesothelioma, I have been privileged to visit the research laboratories at the University of Hawai'i Cancer Center on several occasions.  I have met with the incredible staff and gifted researchers who are doing groundbreaking work to further our understanding of mesothelioma, an aggressive cancer caused by asbestos exposure.  I am always impressed by these world-class researchers and by the students at the Cancer Center.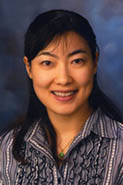 Haining Yang, Ph.D.
One such scientist is Dr. Haining Yang, Ph.D.  I recently read about some exciting new discoveries by Dr. Yang and about the research she was doing.  Dr. Yang is someone we should continue to follow closely as her important work may someday translate into cutting-edge treatments for mesothelioma victims.  We are very fortunate to have Dr. Yang on the team of talented researchers and staff at the University of Hawai'i Cancer Center.
Haining Yang is an assistant professor at the University of Hawai'i Cancer.  Her work focuses on treatment and early detection strategies for asbestos-related diseases such as mesothelioma.  Dr. Yang received her Ph.D., at Shandong University in China.  Among other things, Dr. Yang's work focuses on early detection of mesothelioma using biomarkers, and she is exploring the effects of new chemotherapy drugs.
Dr. Yang Helps Lead The Charge Against Mesothelioma
Dr. Yang has made some very exciting discoveries that may translate into better detection and treatment methods for mesothelioma patients around the world.  For example, Dr. Yang discovered that TNF-alpha, a protein produced by the body during the inflammatory response which can be induced by asbestos, leads to a mediated survival mechanism that helps to protect damaged mesothelial cells from dying.  This then enables these damaged cells to divide and transform into what eventually becomes mesothelioma.
Dr. Yang more recently discovered the importance of HMGB1, an inflammatory mediator, in the growth and survival of a mesothelioma tumor.  When exposed to asbestos, mesothelial cells release HMGB1, which initiates the inflammatory process that is related to mesothelioma development.  It has been discovered that after the healthy cells are transformed, they are still "addicted" to the HMGB1, which is now believed to aid in the growth and development of a mesothelioma tumor.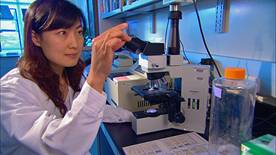 New Discoveries May Bring New Approaches For Treatment
Mesothelioma is a very aggressive type of cancer.  Every year, thousands of people are affected by this disease.  Understanding why the cancer develops helps us to find new approaches for early detection, treatment and prevention of this deadly cancer.
Dr. Yang's research brings us closer to understanding the cancer's behavior, and what nurtures its growth and survival.  Traditionally, the aim has been to kill and remove deadly mesothelioma cells and tumors, but finding ways to prevent the cancer's growth and survival may prove to be a very effective approach.
Many of the clients I have represented over the years have undergone surgery and chemotherapy treatments at some of the finest medical facilities in the country ("Outstanding Mesothelioma Treatment Facilities For Patients to Evaluate" article).  Unfortunately, surgical procedures are invasive and require a lot of strength, time and energy to recover from.  Chemotherapy drugs also have side effects that can leave patients feeling tired or ill, and can kill healthy as well as unhealthy cells and tissue.  Finding new, less-invasive ways of treating cancer would be a giant step in improving the quality of life for mesothelioma patients around the world, and I am proud that the University of Hawai'i continues to be such an important hub for mesothelioma research.
For more information on asbestos and mesothelioma, including information on the latest treatment options, visit our Mesothelioma Knowledge Center.