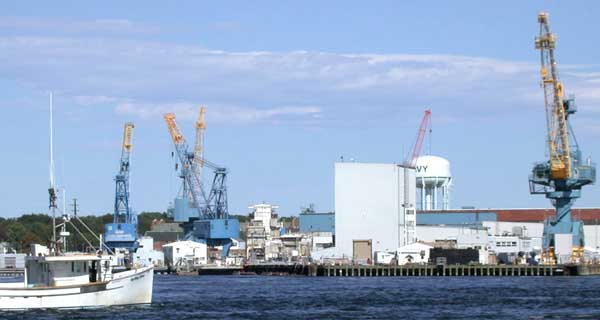 Portsmouth Naval Shipyard
It was announced last week that Portsmouth Naval Shipyard (PNS), best known for its work in building, upgrading, refitting and repairing Navy submarines, will be receiving $9 million to renovate its facilities.
This shipyard began constructing submarines during World War I and played a vital role in both World Wars I and II.  The shipyard workers at PNS built the L-8, the first submarine ever built by a US shipyard. Over 130 submarines were built here between 1917 and 1969.
During World War II, over 70 Gato and Balao Class submarines were constructed at PNS, including the USS Scorpion SS-278, the USS Archerfish SS-311, the USS Ronquil SS-396, the USS Razorback SS-394, and the USS Redfish SS-395. PNS is the only shipyard to ever launch four submarines on the same day.
The shipyard later became the Navy's center for submarine design and development due to all of its accomplishments. PNS continued to build submarines until 1969. Today it remains a major facility for the repair and overhaul of the Navy's submarines.
Millions for Improvements
Congress recently approved a bill allocating $9 million for improvements to PNS. The bill is headed to President Obama's desk. The shipyard sits on the border between New Hampshire and Maine and is a significant employer for both states. New Hampshire Representative Carol Shea Porter and Maine Representative Chellie Pingree were key in securing this funding for shipyard improvements. Approximately $7 million will be used to upgrade security and to build a new guard house, barriers, an inspection shelter and an intrusion detection system. The remaining $2 million will be used to help modernize the shipyards facilities.
Asbestos Exposure at Portsmouth Naval Shipyard
As a result of the work at PNS during both World Wars and up until the mid 1970s, the shipyard workers at Portsmouth Naval Shipyard were exposed to very significant amounts of asbestos-containing insulating materials that were used extensively in the construction and repair of submarines. Many asbestos insulating products were installed in diesel submarines like the Archerfish, Scorpion, Ronquil, Razorback, and Redfish. The exhaust piping and joints on the four diesel engines had asbestos insulating pads.  The hot and cold pipes, valves, and fittings were insulated with asbestos felt and asbestos cloth.
While these submarines were at sea, crewmen were exposed to these asbestos materials that were disturbed during the routine operation and maintenance. All of the submariners were exposed to the asbestos dust that was created, especially given the extremely confined spaces of the submarine. These crewmen and shipyard workers were unaware of the dangers of breathing asbestos and today these veterans remain at risk of contracting mesothelioma as a result of the toxic asbestos on board.
Special Connection with PNS
The law firm of Galiher DeRobertis & Waxman has two special connections with Portsmouth Naval Shipyard and the submarines built there. They have been proud to represent many veterans who developed mesothelioma as a result of their exposure to asbestos while serving on submarines built at PNS.
Our founder, Gary Galiher, has another unique connection with Portsmouth Naval Shipyard – his father served on a PNS-built submarine. During the 1950's, Clifford O. Galiher served as a auxillary machinist on the USS Ronquil.  He said, "I am very proud of my father's Navy service and have come to appreciate the skill and commitment that was required to be a submariner. I am sure my father would be happy and proud to see that PNS continues to repair and maintain submarines for the US Navy."