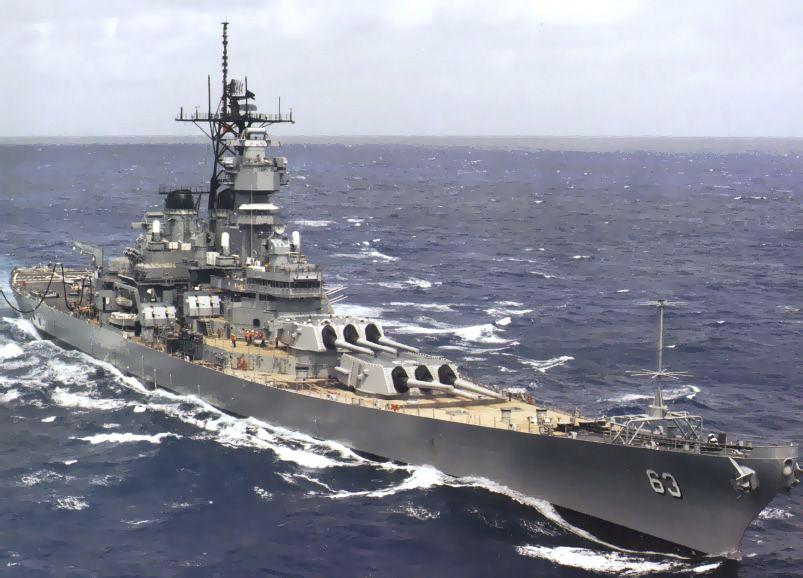 USS Missouri BB-63
The USS Missouri had a long and storied career as a U.S. Navy warship.  She is most famous for having hosted the Japanese surrender in Tokyo Bay at the end of World War II, as well as her role in the battles of Iwo Jima and Okinawa.  Less well known is the fact that USS Missouri actually fought in three wars over the course of 50 years.  In addition to two combat tours in Korea, the Mighty Mo saw action in Operation Desert Storm in 1991, firing her guns against Iraqi forces with the same bravery that she showed in the war against Japan almost a half century earlier.
The Missouri was rescued from a graveyard of Navy ships thanks to the efforts of a dedicated group of supporters, including Retired Vice Admiral Robert Kihune and Hawai'i Senator Daniel K. Inouye.  She moved to her permanent home at Pearl Harbor in 1998, and opened as a museum ship in 1999.  Today, she stands as a memorial to the brave Navy veterans who served in World War II.
The men and women who work at Pearl Harbor Naval Shipyard are proud to be able to repair and maintain the USS Missouri.  As Shipyard Commander Capt. Gregory Thomas noted in a statement to the Honolulu Advertiser, "Pearl Harbor Naval Shipyard played a key role in winning World War II, so Shipyard workers have tremendous appreciation for Missouri's historical significance."
Galiher DeRobertis & Waxman is honored to have represented many of these shipyard workers and Navy veterans in asbestos cases for over 30 years.  Some of our Hawai'i clients were actually present at Pearl Harbor on December 7, 1941, to witness the "day that will live in infamy."  Our clients served bravely at Pearl Harbor Naval Shipyard and in the U.S. Navy, and were often exposed to asbestos on Navy ships and submarines.  We are proud to have been able to help thousands of men and women who have contracted mesothelioma, lung cancer, and asbestosis as a result of their asbestos exposure at Pearl Harbor.