Quebec Government Refuses to Halt Exports of Deadly Asbestos
The Canadian asbestos industry has stirred up serious controversy in the province of Quebec in recent weeks, as Canadian health experts and opposition party members call for a re-examination of Canada's export of asbestos to the developing world.  So far, the Quebec government has rejected these calls.  Indeed, the majority Liberal party recently refused to even create a parliamentary committee to study the health effects of exporting the nearly 175,000 tons of asbestos that are mined in Quebec and shipped all over the world.
The controversy began with Premier Jean Charest's trade mission to India in early February.  Before this visit, Charest received a letter from a coalition of over 100 scientists from 28 countries, calling upon the premier to speak out about the hazards of India's growing asbestos industry.  The scientists asked Charest to recognize the international consensus that all forms of asbestos cause asbestosis, lung cancer, and mesothelioma, and present a serious threat to human health.  Accordingly, the letter asked Charest to stop promoting the use of asbestos in India and other developing countries.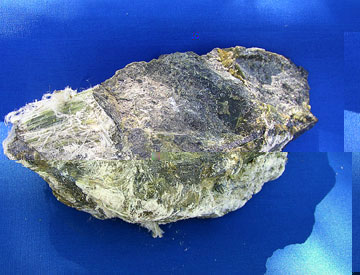 Chrysotile Asbestos
Unfortunately, rather than speaking out about the hazards of asbestos on his trade mission, Premier Charest insisted that: "Chrysotile can be used in a safe manner; this is what WHO reports say.  It is not a banned substance.  It is up to the government of India to put the necessary laws in place."
In fact, the World Health Organization (WHO) says no such thing about the safety of chrysotile asbestos.  According to Maria Neria, the director of public health at WHO, the organization's "position is very, very clear" that "all types of asbestos are carcinogenic."  As noted in a recent article in The Lancet magazine, WHO guidelines state that "increased cancer risks have been observed in populations exposed to very low levels."  The WHO has further stated that "the most effective way to eliminate asbestos-related disease is to stop using all types of asbestos."
Despite the strong international consensus that all forms of asbestos cause lung cancer and mesothelioma, the Quebec government has so far refused to stop exporting deadly and carcinogenic asbestos to India and other poor countries.  On the contrary, the  government continues to support the Chrysotile Institute, which lobbies internationally to minimize the health hazards of asbestos and prevent international organizations from banning the material.
So far, the voice of Canada's $100 million a year asbestos industry has outweighed the voices of scientists and worker advocates.  However, public health experts are extremely concerned about the high rates of mesothelioma, asbestosis, and lung cancer that are likely to emerge in the developing world as a result of Canada's ongoing exports of this toxic substance.
According to The Lancet, asbestos disease already claims the lives of 90,000 people a year worldwide.  Asbestos which is mined in Canada today will continue this deadly legacy for another generation.
The law firm of Galiher DeRobertis & Waxman has represented clients with asbestos-related diseases, including mesothelioma, for over 30 years.  We have seen first hand how this toxic and carcinogenic substance has harmed workers and their families.   Our firm urges the Quebec government to halt the export of Canadian asbestos, so that the dire public health consequences can be avoided.  It is time to stop this deadly industry.