Dr. Michele Carbone, the Director of the University of Hawai'i Cancer Center, chaired the Third Annual Translational Cancer Medicine Symposium on December 2, 2011 hosted by the University of Hawai'i and Queens Medical Center.  The focus of this year's discussion was the recent discovery of the BAP1 gene mutation which has been linked to mesothelioma and other cancers.  I was very interested to learn firsthand from the many world renowned physicians and researchers in attendance about the cutting edge research being done in the field of mesothelioma.
Dr. Carbone and his team of researchers announced their discovery of the BAP1 gene mutation back in August.  This remarkable discovery is the first step in understanding how the BAP1 gene affects those at risk of developing mesothelioma.  This discovery will lead to new genetic therapies and treatments for this devastating cancer.
Carbone was Joined by Other Mesothelioma Researchers
Dr. Carbone was joined by other notable mesothelioma researchers, surgeons and scientists from across the world, some of whom were Dr. Joseph R.Testa of the Fox Chase Cancer Center in Philadelphia and Dr. Harvey A. Pass, a thoracic surgeon at NYU Langone Medical Center.  Dr. Harvey Pass who has been operating on mesothelioma patients for several decades stressed the critical importance of early detection of the disease mesothelioma. Also making presentations were members of Dr. Carbone's Hawai'i team – Dr. Giovanni Gaudino as well as Dr. Haining Yang.
Collaboration Among Mesothelioma Researchers and Physicians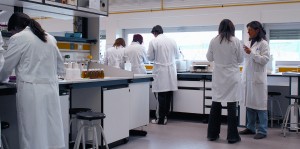 The role of researchers and physicians in the medical world vary greatly.  Researchers focus on the science of new treatments and cures while physician focus on the patient.  However, researchers and physicians have the same goal in mind, new and better treatments and cures for devastating diseases like mesothelioma. When researchers and physician collaborate and share information it can lead to innovative new treatments and a better understanding of diseases.  Collaboration and open discussion will no doubt translate into positive medical benefits for the future.
Dr. Carbone's mesothelioma-melanoma symposium encouraged lively discussion and exchange among researchers and physicians.  It was truly wonderful to witness scientists working together with clinical physicians for the betterment of patients diagnosed with horrific cancers such as mesothelioma.  It is forums like this that will someday lead to a cure for mesothelioma.