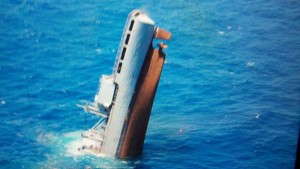 While reading the Wall Street Journal, I came across an interesting article about the U.S. Navy's practice of using old warships as target practice and sinking them off the coasts of the United States.  For almost two years now there has been a moratorium on the Navy's sinking exercises (SINKEX) because of the concerns of environmental groups as well as cost concerns.  But, after a review of these issues, the Navy decided to lift the moratorium on the SINKEX program and this summer undertook plans to sink three inactive vessels, the USS Kilauea, USS Niagara Falls and USS Concord, off the coast of Hawai'i.
Many older US Navy vessels still contain hazardous materials such as PCB's and asbestos.  For years conservation groups have raised concerns about the impact of these toxins on the environment.  These groups believe these inactive warships should be sent to ship breaking facilities and not sunk in the ocean.  Based on my experience, I know that older Navy vessels contained literally tons of asbestos which is part of the basis for these concerns.
Tons of Asbestos Products Used on Navy Ships
Naval vessels constructed during World War II and into the 1970's were heavily insulated with asbestos.  On steam-driven Navy ships, asbestos insulation was used on hot piping and equipment to ensure that the equipment operated properly and that the seamen were not exposed to the extremely hot surfaces or subjected to intense heat.  The types of asbestos products included insulating pads, pipe covering, tape, thread, cloth, gaskets, packing, and cement.  Nearly every piece of machinery that needed to be insulated would have been insulated with asbestos materials.
Many of the asbestos products used in the construction and maintenance of these massive warships still remain aboard them today.  Removal of the asbestos and other hazardous materials aboard is a very costly procedure which was demonstrated when the USS Oriskany (CV-34) was sunk off the coast of Florida in 2006 to be used as an artificial reef.  In order to sink the USS Oriskany, the Environment Protection Agency required that the vessel to be completely cleaned up which cost around $20 million.
Concerns About Asbestos Are Not Only Environmental
The concerns about asbestos on Navy ships are not just an environmental concern.  Shipyard workers and Navy crewmen who served and worked aboard these vessels were exposed to the dangers of asbestos fibers on a daily basis as they constructed, repaired, maintained and lived upon these warships.  The crewmen and shipyard workers who served and worked aboard these ships are at a greater risk of developing mesothelioma, a rare and fatal lung cancer, and other asbestos related diseases due to their exposure to asbestos.
Our Clients Are Navy Veterans and Shipyard Workers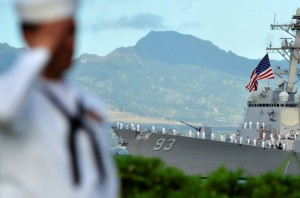 I have had the privilege to represent hundreds of U.S. Navy veterans and shipyard workers who sadly were diagnosed with mesothelioma because of their exposure to asbestos.  Since 1978 I have been fighting for the rights of U.S. Navy veterans and shipyard workers who were unnecessarily exposed to this hazardous material because the companies that sold these products failed to warn of the dangers that they themselves knew about.  To read more about how we have helped our clients recover for the injuries they and their families have suffered, please visit our website article and read about "Our results."  www.galiherlawfirm.com/results/
If you or someone you love served in the U.S. Navy or worked aboard U.S. Navy vessels and has been diagnosed with mesothelioma, it is important that all of you are aware of your legal rights.  Please contact us so we can help.