I recently read about a new study conducted by researchers at the Moffitt Cancer Center in Tampa, Florida.  This study, published in the Journal of Oncology, focused on changing patients' attitudes towards clinical trials which are studies conducted with patients to test the safety and effectiveness of new drugs and innovative treatments.  The study revealed that cancer patients' perceptions and attitudes regarding clinical trials tend to be negative.  The study's lead author, Paul B. Jacobsen, Ph.D., one of the senior members at Moffitt, noted
"Clinical trials are critical to the development of more effective cancer treatments, however, clinical trials are hampered by low rates of patient participation."
Changing Attitudes about Clinical Trials
The study was conducted to find ways to change this negative mind-set and to increase the willingness of patients to participate in various clinical trials.  Researchers decided to try using a multimedia approach which involved many different forms of audio and visual materials to change patients' behavior towards participation in clinical trials.  The researchers discovered that this new multimedia approach had a greater effect on changing patients' attitudes than the standard literature about clinical trials which is typically provided.
The study took 472 cancer patients who had never been asked to participate in clinical trials before and divided them into 2 groups.  One group was exposed to a multimedia presentation of materials regarding clinical trials.  The other group was provided existing pamphlets, brochures, and paper work describing clinical trials.  The study revealed the group who had received the multimedia presentation showed an increased willingness and enthusiasm about participating in clinical trials compared to the group that was simply provided with the standard printed materials.
Although this study only reached a small group of cancer patients, the new multimedia approach has the potential to have a tremendous impact on cancer patients' perception of clinical trials in the future.  I have seen firsthand the benefits that can come from clinical trials research and am happy to see that researchers are finding ways to better educate patients' about clinical trials so they seriously consider participating.
Clinical Trials Are Critical to Finding a Cure
I cannot stress enough the importance of clinical trials in someday finding a cure for many kinds of cancer, including mesothelioma.  Many of these studies have led to new treatments and drugs that have increased life expectancy and quality of life for many cancer and mesothelioma patients.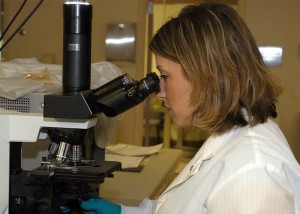 For example, the chemotherapy drugs Cisplatin and Gemcitabine were tested in collaboration with one another in a clinical trial.  The results of this clinical trial showed that their effectiveness in treating patients with mesothelioma was much greater when they were used together.  This new treatment is now available to mesothelioma patients as a viable treatment for their cancer.
There are hundreds of clinical trials beginning every day, but with low patient participation the true effects of these groundbreaking therapies, treatments and drugs may never be fully determined.  The results of this study demonstrate effective ways to increase the number of patients willing to participate in such clinical trials.
My Clients and Clinical Trials
I strongly urge all of my clients to talk to their doctors and medical professionals about participating in clinical trials.  This is a very important decision, but also an individual one that needs to be made by patients in consultation with their treating doctors.
The results of clinical trials help to improve the outlook for all of those suffering from devastating diseases like mesothelioma.  I am proud of all of my clients who have participated in clinical trials.  I strongly recommend if you or a loved one is suffering from mesothelioma that you discuss your options for participation in clinical trials with your doctors.
For more information on clinical trials please visit our webpage on clinical trials.