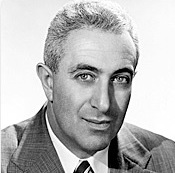 May 20, 2012, marked the twentieth anniversary of the passing of Dr. Irving J. Selikoff, one of the greatest advocates for public health that this country has ever known.  As I reflected upon his passing, I wanted to share some of my observations about Dr. Selikoff's legacy.  I write this article to honor Dr. Selikoff's memory and pay tribute to this exceptional man.
Dr. Selikoff was a medical doctor and epidemiologist who played a pioneering role in documenting and publicizing the relationship between asbestos and mesothelioma.  When I filed my first asbestos case in 1978, it was Dr. Selikoff's research that helped me prove that asbestos was the cause of my client's mesothelioma.
I was fortunate enough to meet Dr. Selikoff in person several times.  He was a wonderful and inspiring man.  Although he faced ridicule, personal attacks, and even threats from the asbestos industry, he never backed down.  He was always positive and extremely motivated about his mission to protect workers and their families.
By exposing the hazards of asbestos, Dr. Selikoff helped to save the lives of thousands of American workers.  His work continues to have a profound impact on millions of people throughout the United States and the world.
Dr. Irving Selikoff's Early Career
Dr. Selikoff began his career as a medical doctor in suburban New Jersey.  When he began treating members of the local Asbestos Workers Union, Dr. Selikoff noticed a surprising and disturbing trend.  Asbestos workers were being diagnosed with lung disease and cancer at a significantly higher rate than his other patients.  Moreover, he found several cases of pleural mesothelioma among asbestos workers every year – an incredibly rare disease that was almost unheard of in the general population.
Dr. Selikoff knew that something was wrong.  He began a larger epidemiological study to measure the incidence of cancer and lung disease among workers who were exposed to asbestos, including shipyard workers.   In 1963, these findings were published in the Journal of the American Medical Association.  His conclusion:  asbestos causes cancer.
1964 Conference on the Biological Effects of Asbestos
Although Dr. Selikoff was not the first to verify the connection between asbestos and cancer, he played a key role in publicizing the danger to workers.  The results of his epidemiological research were so alarming that Dr. Selikoff knew he needed to act.
Asbestos was widely used by American industry in the 1950s and 60s.  The public health implications were grave.  Dr. Selikoff was determined to make sure that the dangers of asbestos would not be ignored.
In 1964, Dr. Selikoff organized a conference on the "Biological Effects of Asbestos" through the New York Academy of Sciences.  The conference was a turning point in public and scientific awareness of the hazards of asbestos.   The discussions were far-reaching and even included presentations showing that housewives could develop mesothelioma from exposure to their husbands' work clothes.
Dr. Selikoff's Legacy
Dr. Selikoff continued to work on behalf of asbestos workers throughout his career.  The asbestos industry and its lawyers criticized and questioned Dr. Selikoff's work.  But he was tenacious; he never backed down or gave up.  Dr. Selikoff continued his fight because he believed that the public deserved to know the truth about asbestos, and that industry and government needed to take action to protect workers and their families.
Dr. Selikoff eventually became director of Mount Sinai Hospital's Environmental and Occupational Health Division in New York.  The division was later renamed the "Irving J. Selikoff Center for Occupational and Environmental Medicine."
Today, medical researchers at Mount Sinai are focused on finding new and better ways to treat mesothelioma and other asbestos-related diseases.  The Mount Sinai Thoracic Surgery division is at the cutting edge of mesothelioma treatment and care.    While Dr. Selikoff may be gone, his great legacy lives on.
For more information on the latest mesothelioma research, visit our Mesothelioma Knowledge Center.