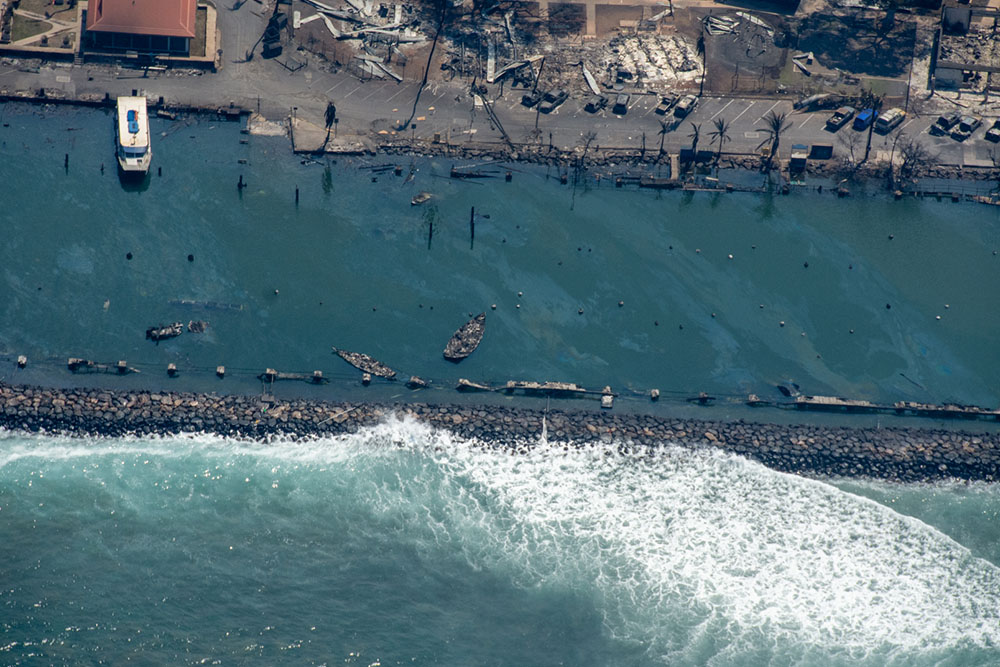 The legal team and staff at Galiher DeRobertis & Waxman are actively working with victims of the Maui Fire Disaster, as well as Hawai'i community and aid organizations.
Firm managing partner Ilana Waxman — who was born and raised on Maui — is working closely with the Hawaii State Bar Foundation, the Hawaii Association for Justice, and the American Association for Justice to provide legal assistance to victims of the fire, which destroyed the city of Lahaina. Galiher DeRobertis & Waxman lawyers on the ground in Hawai'i are also coordinating with the Hawai'i Community Foundation's "Lawyers Care Maui" fund to coordinate fundraising and legal assistance.
Click here to learn more and donate to the Hawai'i Community Foundation's "Maui Strong Fund."
"Our many friends in West Maui still need emergency assistance, including shelter, food, fuel and other basic needs," Waxman said. "The cleanup has only begun, and we are committed to doing everything we can to help rebuild."
Legal Help is Available for Maui Fire Victims
Our veteran Hawai'i-based lawyers at Galiher DeRobertis & Waxman are available to help in a variety of ways. The team can help those impacted understand their options and legal rights, including ensuring that insurance companies provide prompt and fair compensation for losses.
The legal team is actively helping fire victims obtain justice from entities — including Hawaiian Electric Co. (HECO) — whose actions before and during the blaze contributed to the damage and loss of life. Despite forecasted high fire danger conditions, HECO failed to shut off electricity, which complicated and delayed evacuation efforts and emergency response. Investigators say dozens of still-energized poles fell across roads in West Maui, delaying the ability for residents to evacuate and for emergency crews to respond.
The firm is experienced in obtaining justice and monetary damages for victims from powerful corporations and entities like Hawaiian Electric Co. (HECO).
Contact us here or call (888) 597-1441 to speak with someone.
Benefits, Shelter, Insurance Information and Assistance for Maui Fire Disaster Victims
The County of Maui's "Maui Nui Strong" website is serving as a hub for coordinating relief and response efforts. That includes details on how to donate, volunteer, offer services and locate support. Information is available at mauinuistrong.info or (808) 270-7285.
Fatality and Missing-Persons Update
The Maui Police Department provides up-to-date information about missing persons and confirmed fatalities at the department's website: bit.ly/MauiPoliceNews.
Immediate family of missing individuals can provide a DNA sample by calling the Honolulu office of the Federal Bureau of Investigation (FBI) at (808) 566-4300 or the Red Cross at (800) RED-CROSS.
Call Center
The State of Hawaiʻi and Maui County launched the Maui Disaster Support Call Center to serve as a hub for those affected by the Maui fires. The call center can be reached at (808) 727-1550 between 6 am to 10 pm daily.
Maui Recovers
A Maui Recovers website provides official news on recovery efforts, including updates on water and wastewater, fire debris removal, financial and housing assistance, and re-entry into impacted areas. Visit the website at: www.mauirecovers.org.
Family Assistance Center
Services at the Family Assistance Center have moved to the FEMA Disaster Recovery Center, or DRC, at the Lahaina Civic Center. The center is open daily from 8 a.m. to 7 p.m., 1840 Honoapiilani Highway.
The Family Assistance Center and the American Red Cross continue to provide services to families of those who are deceased and hospitalized. To schedule an appointment for services, families may call (800) RED-CROSS.
Insurance Policy Claim Assistance
After filing an insurance claim for property damage, it's essential to maximize the settlement offered by your insurer. Preparation, organization and attention to detail play a vital role.  Before filing a claim, document damage, ideally with before-and-after photos for strong evidence. Obtain accurate damage estimates by choosing reputable repair companies that offer high value and quality estimates. Thoroughly define the scope of repair to cover all property damages. Avoid quick acceptance of initial offers. Keep receipts for housing, food, internet, food, laundry and other expenses. Engage an attorney if you believe an insurance company has undervalued claims.
Common insurance claims from fires include:
Homeowner policies that cover costs, including:

Damage to homes, unattached structures and vehicles on the property
Damage to personal belongings, including furniture, appliances, clothes, tools, jewelry and other items
Living expenses
Medical expenses
Policies may cover temporary living expenses, also known as Additional Living Expenses (ALE).

Renters insurance policies protecting personal property and loss of use of the rented property. These policies may also cover liability and medical expenses.
Condominium Insurance policies that cover personal property and improvements to the unit. Condo associations typically purchase insurance to cover the structure and common areas, while individual policies cover the contents of the unit.
Car and automotive policies

If a vehicle was damaged or destroyed in the fire, report it to both your homeowners and auto policies. If you have GAP coverage insurance, notify them, as well.

Business insurance, including property damage and business interruption losses
Fire insurance covering the dwelling and surrounding structures and personal contents. These policies often cover debris removal, landscaping and additional living expenses.
Rental Assistance
The Individuals and Households Program (IHP) provides tax-free rental assistance grants for temporary housing. Only one application will be accepted per household. Apply at www.disasterassistance.gov or call the FEMA helpline at (800) 621-3362.
Mortgage Payments
Unless you obtain a forbearance agreement from your lender, you should continue to pay your mortgage regardless of whether your residence was destroyed or damaged. Contact your mortgage service to discuss relief options. If you are having trouble contacting your mortgage servicer, contact Homeowner's HOPE Hotline at (888) 995-4673 for help.
If your home is owned by Fannie Mae or Freddie Mac, you may be eligible for temporary help with payments. You can check to see if Fannie Mae owns your loan at www.knowyouroptions.com/loanlookup or by calling (800) 232-6643. You can check to see if Freddie Mac owns your loan at www.loanlookup.freddiemac.com or by calling (800) 373-3343.
Medical and Nutrition Support
Residents who need Supplemental Nutrition Assistance Program (SNAP) should visit the nearest SNAP processing center or call the Public Assistance Information Line (855) 643-1643.
Emergency Prescription Assistance (EPAP)
Help is available for fire victims who need to replace prescription medicine and medical equipment, call (855) 793-7470 or visit https://aspr.hhs.gov/epap for more information.
Missing Pets
The Maui Humane Society has distributed more than 17,000 pounds of pet food and supplies to pet owners affected by the fires. Visit mauihumanesociety.org for importation about pet supplies and veterinary services.