Above: Gary addressed an audience at the unveiling of a new mural at the Gary Galiher Law Building in 2016.
By Cynthia Davis, RN, Medical Legal Assistant at Galiher DeRobertis & Waxman
Those of us who knew and loved and appreciated Gary know that there will never be another Gary Galiher. He was a uniquely gifted man who gave the full measure of himself to his many endeavors. He lived for this firm and the clients it serves.
When I started work on June 1, 1983, I was not prepared for the journey I would take with Gary over the next almost 34 years. Together, we created the medical-legal department, and Gary was very proud of this creation. At the time, I knew of only one other RN working for a law firm, and it was a defense firm. She told me that it was probably much easier to come to work when you worked for the plaintiff, as nurses always want to care for people. And that is true.
Our clients, though plaintiffs in lawsuits, are also patients suffering with devastating illnesses and injuries. As a former nurse, I am always acutely aware of this, and I become well acquainted with their pain and suffering as we prepare their cases. Gary's motto for his firm is "On Your Behalf," and he was committed to making his clients as whole as possible again.
Gary was a man with eclectic tastes. He collected art objects and appreciated beauty. He created beautiful things with his hands. He was a carpenter who became a woodworker, a cabinet maker, and at one time he made pottery.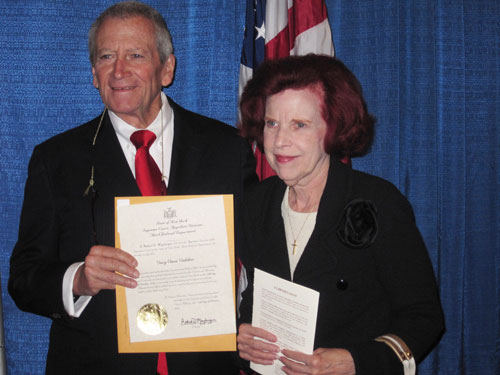 He loved classical music. He was a patron and a subscriber to the LA Philharmonic, a major U.S. orchestra. By his second season as a subscriber, he had become a folk hero: the "LA boy" who graduated from UCLA, moved to Hawai'i, founded a law firm, commuted to his home on Molokai by helicopter, traveled all over the mainland, and attended their concerts! I asked his ticket concierge if they had other subscribers like him, and she said, "None." He was, in the words of his concierge, "a cherished member of the LA Phil family."
Gary loved the piano and he was my piano student. He wanted to play Pachelbel's Canon, the Brahms' "Lullaby," and he loved Bach and Beethoven, and was discovering the other composers. Gary was eagerly learning the basics of the keyboard and notes. My last conversations with him were about music and his plans to seriously study the piano.
Gary seemed to be very happy. New horizons were opening for him. He had accomplished so much, but I can't help thinking of the broken column, the symbol of someone who is cut off in the vigor of life. I will miss him always. I will never again hear the roar of his Ferrari or motorcycle under my window or the heavy tread of his footsteps in the hall outside my office when he came to visit, always calling me by my full name, "Cynthia Star Davis."
His family and loved ones, especially his daughters and son, have my deepest sympathy. On the day Gary died, I had worked for him for exactly 33 years, 5 months, and 15 days. For all of us, the pain will eventually fade, to be replaced by memories that will light our days, and surely the days of those who are privileged to carry his work forward.
Inset: Cynthia and Gary at his admission to the New York Bar in Albany, NY, 2014.