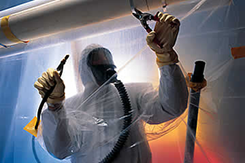 Most Americans now know that asbestos is a dangerous mineral which can cause respiratory diseases like asbestosis, lung cancer, and mesothelioma.  For many years, however, asbestos was used in a wide variety of products such as drywall, insulation, cement, tile, electrical cable, brake pads and even cooking utensils, to name just a few.   Many companies continued to use asbestos in their products well into the 1980s and 90s, even after they knew that it was hazardous.
Today, we can still find asbestos in older homes, schools, mills, factories, and other commercial buildings.  If it is not handled properly, this asbestos may present a health risk to our communities.
This is a matter of special concern to me as a mesothelioma lawyer.  For more than 30 years, I have represented workers and families who were exposed to asbestos through industrial use in the past.  It is critical that we take steps to make sure that people are not exposed to asbestos in the future.
Dealing With Asbestos Today
Although asbestos was a cheap material to use, it isn't necessarily cheap to remove.  Asbestos inspections and removal can be timely and expensive.  For example, some large buildings that contain high levels of asbestos cannot simply be demolished; asbestos-containing materials must be removed piece by piece.
Recently, I read some disturbing stories which brought my attention to a rarely discussed step in asbestos removal – disposal.  Asbestos today is often classified as hazardous waste, and not all facilities will accept asbestos-containing materials.  As a result, people may find it easier to illegally dump asbestos in public areas.  This can pose a serious problem for those in the surrounding area who may just see a harmless pile of debris.  In addition, those who may be ultimately called upon to remove the debris may also be at risk of inhaling asbestos fibers.
Encouraging Safe Asbestos Removal and Disposal

It is so important that we create accessible and affordable channels to make safe asbestos removal practical.  We cannot make the process so difficult or expensive that people are encouraged to take shortcuts when dealing with this very serious problem.  Moreover, we cannot afford to have accurate inspections, thorough removal, and then fail in safely disposing harmful asbestos materials.  We must succeed in all stages, from the initial inspection for asbestos to its disposal, it is important that the diligence continues throughout the entire process to ensure the safety of those who may have contact with these materials.
 Society's Position Toward Asbestos
As a mesothelioma lawyer, I have been helping asbestos victims and their families for over three decades, and I have seen a giant shift in attitude of our society when it comes to asbestos.  Through litigation efforts, we have successfully deterred asbestos manufacturers from continuing to produce asbestos-containing products, and we have raised awareness of asbestos in our communities.
Today, we see asbestos-related problems being treated with the gravity they require.  Together, we have managed to change some very harmful actions and attitudes, but the remnants of those decisions are still present today.  Therefore, we must continue to be mindful and thorough in removing asbestos from our environment to help mitigate potential asbestos-related illnesses in the future.