A few weeks ago I shared some very moving photographs of mesothelioma patients captured by Neil Hodge, a photojournalist from the United Kingdom.  Neil not only takes pictures of these patients, but he also chronicles their lives and the often times overwhelming challenges they face as they deal with this asbestos caused cancer for which there is no cure.  Neil's focus on asbestos, however, has now gone beyond the camera lens.  Neil himself has become an advocate to raise awareness of the deadly risks of asbestos exposure that people in developing countries face because asbestos is being sold and used in these countries.  Like me, he has seen the devastating consequences of asbestos related diseases and wants to do all he can to prevent that from happening in third world countries.
An Asbestos "Tsunami"
Neil and I first connected on Twitter after I had written an article about the rise in asbestos use in Asia.  It is predicted that Asia will see a surge of mortality and morbidity from asbestos-related diseases in the decades ahead.  One doctor warned that Asian governments and health officials must prepare themselves to deal with an "asbestos tsunami."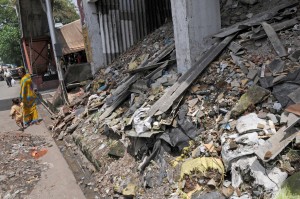 Neil is no stranger to understanding the risk of disease that accompanies asbestos exposure and commended my efforts in getting this word out.  Neil explained to me that in addition to his photojournalist work, he has turned his attention to another aspect of the asbestos story—the health risk to those in third world countries where asbestos is being sold and utilized.
Continuing Risks of Disease from Asbestos
Neil's interest in asbestos-related diseases began when he worked as an insurance journalist reporting studies from Lloyd's of London related to future deaths from mesothelioma.  Because it takes 30-40 years for mesothelioma to develop after exposure to asbestos, exposure to asbestos today poses serious risks for the future.  According to Lloyd's, the number of mesothelioma deaths was likely to reach its peak by 2015-2020, and that asbestos-related injuries and pay-outs would then begin to decline.
To me, this just never seemed credible: in the UK, the overwhelming majority of buildings still contain asbestos, and while there are regulations in place for employers to monitor whether the material is safe, enforcement is another issue. Therefore, as the material is still present, so is the danger.
An Advocate for Asbestos Awareness
To add to his reporting on mesothelioma victims, Neil focused his attention on the future risks that people in developing countries face due to asbestos use and exposure.  Neil quickly learned that India is one of the world's biggest users of chrysotile "white" asbestos, and found that asbestos is used principally in building materials such as asbestos cement, with workers having little protection and no knowledge of the risks. Neil wanted to investigate further: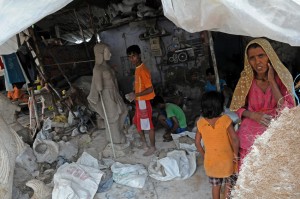 I decided to focus on two cities where local campaigners have been trying to raise awareness about the risks of asbestos exposure – Mumbai and Ahmedabad.  It did not take long to gather material.  Within days I had pictures of asbestosis sufferers and broken asbestos cement blocks left in residential streets.  In Ahmedabad I managed to find some children working with asbestos cement on the side of the road, building statues of Indian gods.  Not one of them was aware of how dangerous the substance is, and none wore safety masks.  I'm intending to go back to India in the next 12 months, possibly visiting Bangladesh and the ship-wrecking yards at the same time.
Neil's experiences in India have made it apparent to him that the dangers of asbestos need to be accepted by all countries, and that the substance needs to be banned.  Neil and I are both appalled that any country is exporting asbestos to third world counties.
It is unacceptable for countries – notably Canada – to export asbestos to the developing world when the mineral is banned from domestic use.  Furthermore, as India and China are among the world's most populated countries – and biggest users of asbestos – the idea that mesothelioma claims will reach their peak in 10 years time becomes a complete myth.  It could be 50 years before mesothelioma cases become really noticeable in the developing world, and the numbers affected could reach millions.
A Common Bond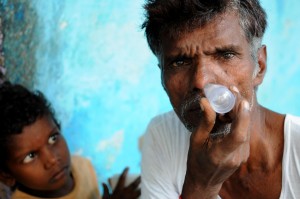 Neil and I share a common bond.  We have both seen from different vantage points the devastating effects of asbestos in the eyes of mesothelioma patients and their families.  I have represented mesothelioma victims for over three decades and have seen the tremendous pain and suffering that this disease has wrought.  Neil has captured the same misery through his camera lens.  Neither of us wants to see this tragedy repeated anywhere in the world.  We both are advocates sounding the alarm to protect innocent people in third world countries from suffering this fate.
I am happy that I have crossed paths with Neil Hodge-he not only is a talented photojournalist, but a humanitarian working to make a difference in the health and lives of many who have a much smaller voice.
To see more of Neil's work, you can visit his website at http://www.neilhodge.co.uk or follow him on Twitter @neilhodgephoto.