For over 30 years, I have looked into the eyes of my clients who are suffering from mesothelioma and have seen pain, sadness, and despair that I cannot adequately describe.  The physical pain is excruciating as this cancer constricts breathing and movement as it envelopes the lungs or abdomen, and the treatment options bring even further discomfort.  The sadness in my clients' eyes is a reflection of what they feel whenever they think of their family and the emotional toll this disease takes on all of them.  And the despair is the result of knowing that there presently is no cure for this cancer.
Mesothelioma through the Camera of Photojournalist Neil Hodge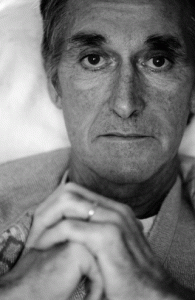 But what my words fail to capture, photographs can.  I recently became acquainted (via Twitter) with Neil Hodge, a photojournalist from the United Kingdom who has focused his interest and camera on the faces of mesothelioma victims.  Neil has been documenting the lives of people affected by mesothelioma through photography and interviews for the past three years.  He has shared some of his photos with us that capture the suffering of mesothelioma patients.
I was very interested to learn how Neil began photographing mesothelioma patients and reached out to learn his story.  I asked him when and why he undertook to document the lives of mesothelioma victims.  Neil explained in his own words how he got started and some of the difficulties he faced:
"For the past three years I have been documenting the lives of people affected by asbestos-related diseases through photography and interviews. I started my photo-documentary project on people suffering from mesothelioma in 2008, initially focusing on people based in the East Midlands of the United Kingdom – principally around the industrial cities of Nottingham, Leicester, Sheffield and Doncaster. My interest in asbestos-related diseases began largely when I worked as an insurance journalist reporting studies from the likes of Lloyd's of London that the number of mesothelioma claims/deaths was likely to reach its peak by 2015-2020, and that asbestos-related injuries/pay-outs would then begin to decline. To me, this just never seemed credible: in the UK, the overwhelming majority of buildings still contain asbestos, and while there are regulations in place for employers to monitor whether the material is safe, enforcement is another issue. Therefore, as the material is still present, so is the danger."
Neil also talked about the challenges and frustrations of trying to document the lives of those suffering from mesothelioma.  It is understandably often difficult for a family to appreciate the amount of access a photojournalist like Neil needs to really tell their stories:
"It was incredibly difficult – and still can be – to photograph people receiving treatment, or to take pictures of them when they are unwell. While sufferers' families have always supported my work in terms of publicizing that asbestos is still a real danger, they have not always understood how a photojournalist needs to operate and the amount of access I must have to tell the story – that I need to take pictures when people are having surgery, are not feeling well, and are dying. It's not an easy point to make to relatives who have been told that their father/husband is likely to have just six months to live, and a lot of chemotherapy, radiotherapy, and surgery in between."
Continuing to Spread Word of Dangers of Asbestos
Neil is continuing to document mesothelioma patients in the United Kingdom, but he has also turned his attention to the use of asbestos in developing countries like India to raise the awareness of the future disease that will result from the use of this deadly material.  I will write more about that in my next article, but for now I want to thank Neil for sharing his photographs with us so we could put faces on this tragedy.  To see more of Neil's work, you can visit his website at http://www.neilhodge.co.uk or follow him on Twitter @neilhodgephoto.