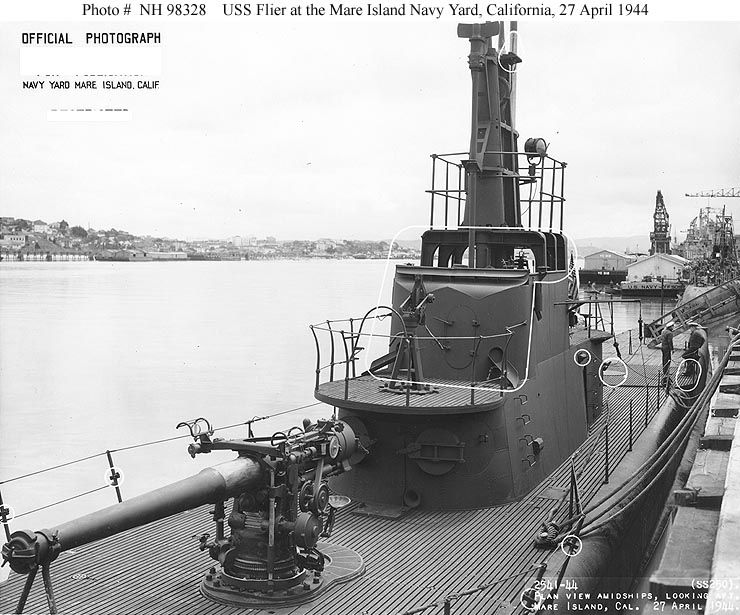 USS Flier SS-250
During World War II, the submariners of the U.S. Pacific Fleet  faced great danger.  In fact, nearly 22 percent of submariners were lost in World War II.  Of the 288 submarines deployed in the Atlantic and Pacific, 52 were lost.  All but four were lost in the Pacific war zone.
Today, explorers continue to search for these boats that disappeared.  The various discoveries of these lost or missing vessels have answered many questions about these submarines and, as a result, families who lost loved ones aboard the boats can finally feel a sense of closure.  The USS Flier SS-250 is the fifth U.S. submarine to be discovered since 2005.
A Brief History Of the USS Flier
The USS Flier was laid down on October 30, 1942 and was commissioned on October 18, 1943.  She was a Gato class submarine and was the only boat in the United States Navy to be named after the flier, a well-known round sunfish.
On August 12, 1944, while on her second war patrol to the coast of Indochina, the USS Flier struck a mine and began to sink immediately.  Seventy-eight men died in the tragic incident, and only eight men survived.
Recent Discoveries
In the spring of 2009, a team from YAP Films located the wreckage of USS Flier.  According to the Navy, Mike and Warren Fletcher, a father and son team of divers from the television show Dive Detectives, took the first footage of the submarine and provided it to the Naval History and Heritage Command to confirm the identification.
On February 1, 2010, the U.S. Pacific Fleet submarine force confirmed that the submarine found in the Balabac Strait is the USS Flier that was lost in World War II.  The Balabac Strait is located in the South China Sea between the Philippines and the islands of Borneo.
Galiher DeRobertis & Waxman Continues to Help U.S. Veterans
Galiher DeRobertis & Waxman has represented many men who served or worked on submarines during their repairs at Pearl Harbor Naval Shipyard and at other shipyards such as Hunters Point Naval Shipyard, Mare Island and Puget Sound.   Although they did not realize the danger at the time, our clients were exposed to deadly asbestos dust.  Many shipyard workers and U.S. Veterans were put at risk for developing mesothelioma, lung cancer, and other asbestos-related diseases as a result of the toxic asbestos on board.
Through our work, we have had the pleasure of meeting and representing many U.S. Veterans who have served on submarines during WWII, the Vietnam War, the Korean Conflict, and the Cold War.  We have listened to their stories and have been greatly moved by their dedication and sacrifice.  The discovery of the USS Flier in Southeast Asia clearly demonstrates that the brave sailors and their families faced untold hardship as they gave their lives in service of our country.