I have had the privilege of representing many US Navy veterans through my work as a Mesothelioma lawyer and am always interested in stories about World War II veterans.  I feel especially close to these war veterans, not only because of the work I have done representing them, but also because my father served during World War II.  He was a submariner on the USS Sealion, a diesel submarine that was barely longer than 300 feet.  Later during the Korean War, he served on the USS Ronquil, another diesel sub with equally cramped quarters.  My father always took great pride in his navy service and had a special bond with those with whom he served. I enjoy reading stories about the camaraderie that these war veterans shared. A recent story about two veterans reminded me of that bond.
Lifelong Pals Visit to the WWII Memorial
Bill McGarry and Bill Mark have been friends for over 60 years.  They grew up two blocks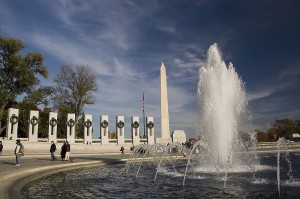 apart in Chicago and both attended St. Rita High School.  They were born a month apart and were both drafted for World War II within the same month.  Bill McGarry served in the US Navy as a dynamite expert, while Bill Mark served in the Army.  Both men fought in battle and were shot by enemy fire, but avoided serious injury. Despite a few injuries, both men returned home after the war in one piece.  The two veterans, now 85 years old, have remained friends all of these years.  It seemed only fitting that these two veterans together visited the World War II memorial in Washington DC. Their visit was compliments of the Honor Flight Network, a volunteer service that flies World War II veterans free of charge to see the memorial built in their honor.  On June 29, 2011, this program took 95 veterans to Washington D.C. to tour the memorial.  The group included veterans Bill McGarry and Bill Mark.
US Navy Veterans and Asbestos Products
It is important to remember that US veterans, like Bill McGarry and Bill Mark, not only faced the dangers of war time battles, but they also faced another deadly dangers as they served their country. Veterans, especially US Navy veterans, were exposed to asbestos.  As a result, they are at a high risk of contracting mesothelioma, a cancer of the lining of the lungs caused by asbestos.  Veterans were exposed to asbestos dust while they carried out their wartime duties of building and operating US Navy ships ladened with asbestos products.  These cases of mesothelioma could have been prevented if the companies that sold these products had warned these veterans of the deadly dangers of breathing this dust.
Literally tons of asbestos insulating materials were used on US Navy vessels-ranging from asbestos pads, felt and cloth to asbestos pipe covering and cement to asbestos gaskets and packing. Until the 1980's, a Navy ship's machinery and piping would be covered with asbestos insulation from stem to stern.  Asbestos was released into the air and breathed by shipyard workers and Navy seamen as the ships were built, operated, and repaired.
Asbestos pads were used to insulate equipment and machinery. These pads were also used on the thousands of flanges and valves found throughout the ship. They were designed to be easily removed for routine maintenance of the ship's equipment. Because these asbestos pads were routinely removed and replaced, their handling generated asbestos dust. Each time the pads were handled, shipyard workers and seamen were exposed to dangerous asbestos dust.
Asbestos Pipe Covering was rigid, and pre-formed. These rigid forms of insulation were used to insulate piping and came in a variety of round sizes and were typically three feet in length. The asbestos pipe covering was wrapped with asbestos cloth and troweled with asbestos cement. The cutting and sawing of this rigid pre-molded pipe covering exposed shipyard workers and Navy seamen to asbestos dust and fibers.
Asbestos Cement, Cloth, Tape, and Thread were used in conjunction with asbestos pads and pre-molded pipe covering to build out the insulated surfaces. Asbestos cement was used over all of the various insulating materials to fill cracks, form an extra layer of insulation, and provide smooth surfaces for painting. Asbestos cement was typically mixed dry to form a slurry that was troweled over asbestos pads, pipe covering, and other insulated surfaces. Significant amounts of asbestos fibers became airborne each time asbestos cement was used.  Asbestos cloth was wrapped around pre-molded pipe covering and was typically installed over the asbestos pads that covered the equipment, machinery and valves.
Asbestos-Containing Gaskets and Packing were used on almost all of the equipment and machinery, valves, fittings, and pipe connections on a Navy vessel.  Asbestos gaskets were often cut from compressed asbestos sheet materials that contained 80% or more asbestos fiber. There were literally thousands of asbestos gaskets used throughout US Navy ships. Asbestos packing was used in valve stems to prevent leaking. To repair a leaking valve, the valve was opened and rings of deteriorated asbestos packing were removed. This was typically accomplished with a tool that looked like a cork-screw.  The removal of old asbestos gaskets caused the release of asbestos fibers as the surfaces were sanded by hand or with pneumatic tools and wire brushes. Similarly, all of the old and deteriorated asbestos packing had to be dug out of valves before new asbestos packing could be installed.  Shipyard workers were exposed to the asbestos dust generated from the installation of asbestos gaskets and packing during new ship construction. In addition, during the overhaul and repair of Navy ships, workers were exposed to the asbestos fibers from the gaskets and packing.
US Veterans and Their Legal Rights
US veterans not only faced the dangers of wartime battles, but they also faced the hazards of asbestos exposure. Sadly, many veterans have succumb to mesothelioma as a result of their exposure to asbestos.  For over 30 years, it has been my privilege to represent veterans in their claims against the companies who made and sold these products.  I have helped mesothelioma victims in over 40 different states. If you or a loved one has been diagnosed with mesothelioma, please contact me.  I will answer any questions you have about your situation and your legal rights.