WEST VIRGINIA MESOTHELIOMA LAWYERS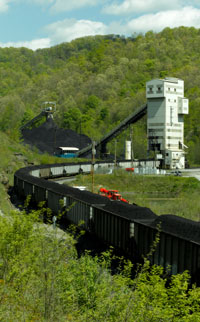 West Virginia is perhaps best known for its vast coal mining industry. The Mountain State's coal miners are no strangers to the lung diseases caused by toxic mineral dust, including black lung disease and silicosis. Tragically, many other West Virginia residents outside the mines were also exposed to asbestos dust, and have suffered from asbestosis, lung cancer, and mesothelioma as a result.
West Virginia workers were exposed to asbestos in industrial facilities such as steel mills, foundries, chemical plants, and power plants. Asbestos was widely used throughout these facilities. Asbestos insulation, gaskets, and packing were used on steam lines, in boilers, and on steam-powered machinery.
In addition, asbestos was often used as a construction material in residences and commercial buildings alike. Asbestos was a highly effective insulating material. It was also a common ingredient in drywall joint compound, plaster, cement, and various other construction products prior to the 1980s.
Many West Virginia buildings still contain the original asbestos materials, creating a serious risk of asbestos exposure when remodeling or demolishing these older structures.
OCCUPATIONS AT RISK
For much of the twentieth century, there were a variety of occupations that that put West Virginia workers at risk of asbestos exposure. If you worked in one of these occupations in the 1980s or earlier, there is a good chance that you were exposed to asbestos:
Automobile Mechanics
Boilermakers
Construction Workers
Electricians
Insulators
Pipefitters
Plasterers
Power Plant Workers
Railroad Workers
Sheetmetal Workers
Steelworkers
U.S. Navy Veterans
Welders
JOBSITES WITH KNOWN ASBESTOS EXPOSURE
The use of asbestos products has been documented on hundreds of jobsites in West Virginia, including the sites listed below. If you or a family member worked in one of these places, you may be at a heightened risk of mesothelioma or asbestos disease.
Please contact our firm for more information If you believe that you were exposed to asbestos at your job. There are many other jobsites in West Virginia where asbestos was used.
Steel & Iron Mills
Connors Steel
La Belle Iron Works
National Steel
National Mine Service Co.
Parkersburg Iron & Steel Co.
Steel of West Virginia
Union Carbide Metals Co.
Weirton Steel Co.
Wheeling Pittsburgh Steel
Wheeling Steel & Iron Co.
Power Plants
Beech Bottom Power Co.
EC Ernest Electric Co.
Gavens Powerhouse
Glasgow Powerhouse
Harrison Power Plant
John Amos Powerhouse
Mitchell Powerhouse
Monongahela Power Co.
Mount Storm Powerhouse
Mountaineer Powerhouse
New Haven Power Plant
Virginia Electric & Power Co.
Chemical
Allied Chemical
American Cynamid
Columbia Southern Chemical Corp.
Dupont Chemical
Kaiser Aluminum & Chemical
Inorganic Chemicals Div.
Monsanto Chemical Co.
Mobay Chemical
Union Carbide Corp.
Shell Chemical
Stauffer Chemical Co.
Foundries and Other Industry
Blaw Knox Foundry
Blenco Glass Co.
Brockway Glass Co.
Celotex Corp.
Continental Foundry
Continental Can Co. Inc.
Davis Lynch Glass
Dunbar Glass
FMC Corporation 
Fostoria Glass Co.
Georgia Pacific Corp.
H.K. Ferguson Co. 
Holland-Soco Color Co.
Johnson Welders Supply Co.
Marietta Manufacturing
Owens Illinois Glass Co.
Pennsylvania Glass Sand Corp.
PPG Industries
Union Carbide Corp.
MESOTHELIOMA IN WEST VIRGINIA
Due to the high levels of asbestos used at West Virginia jobsites, hundreds of West Virginia residents have died of mesothelioma, a rare and deadly cancer of the lining of the lungs or abdomen.
Like other asbestos diseases, mesothelioma has a long latency period. This means that a person usually develops mesothelioma long after the initial exposure to asbestos – usually between 10 to 50 years later. Due to this latency period, West Virginia residents may be diagnosed with mesothelioma well into the twentieth century, even though asbestos is rarely used today.
According to the Centers for Disease Control, 149 West Virginia residents died of mesothelioma in the years 1999 to 2005 alone. Tragically, these high rates of disease are likely to continue well into the next decade.
WEST VIRGINIA MESOTHELIOMA LAWYER
If you have been diagnosed with mesothelioma, and you believe you were exposed to asbestos in West Virginia, we urge you to contact one of our lawyers for a free consultation. Our firm has decades of experience in the asbestos litigation, and we have represented several West Virginia residents in close collaboration with local counsel.
We can help you investigate the sources of your exposure, and determine what companies were responsible. You should also be aware that it is important to act quickly if you are considering a lawsuit, because you have limited amount of time to file suit.