MICHIGAN MESOTHELIOMA LAWYERS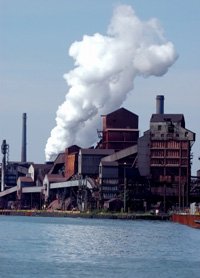 Michigan is the home of the American automotive industry. For most of the twentieth century, it was a manufacturing powerhouse. In addition to automotive plants, Michigan had numerous steel mills, chemical plants, foundries, power plants, and paper mills. Unfortunately, these industries used large amounts of asbestos, as an insulating material on the factory floor and a component of many pieces of industrial equipment.
Asbestos was also used as a raw material in a variety of automotive parts, such as brakes, clutches, and gaskets. Vehicle manufacturers used asbestos as an insulating material and a strengthening agent. Factory workers were exposed to asbestos during the manufacturing of these components.
Although the Big Three automotive manufacturers were well-aware of the hazards of asbestos as early as the 1930s, they continued to use asbestos without warning their workers and consumers. U.S. automobile manufacturers did not completely stop using asbestos until the 1990s.
Finally, Michigan residents may be at risk of asbestos exposure even today, from asbestos materials in residential and commercial buildings. Asbestos insulation was used in the construction of many Michigan homes, offices, and schools to retain heat during the long cold winters. Many other construction materials also contained asbestos, including cement, plaster, joint compound, siding, tiles, and even paint. These asbestos materials are still in place in many older buildings.
OCCUPATIONS AT RISK
Below is a list of occupations that put Michigan workers at a known risk of asbestos exposure. If you worked in one of these occupations in the 1980s or earlier, there is a good chance that you were exposed to asbestos:
Automobile Mechanics
Boilermakers
Brewery Workers
Chemical Plant Workers
Construction Workers
Electricians
Foundry Workers
Industrial Plant Workers
Insulators
Pipefitters
Plasterers
Power Plant Workers
Railroad Workers
Sheetmetal Workers
U.S. Navy Veterans
Welders
JOB SITES WITH KNOWN ASBESTOS EXPOSURE
There are thousands of Michigan job sites with a well-documented history of asbestos use, more than we can possibly list here. If you believe that you may have been exposed to asbestos at some other site in Michigan, please contact one of our mesothelioma attorneys for more information.
If you or a family member worked in one of these places prior to the 1990s, there is a good chance you were exposed to asbestos on the job:
Automotive
A.C. Spark Plug Co.
American Motor Co.
American Radiator Co.
Buick Motor Div.
Cadillac Motor Car Div.
Chevrolet Motor
Chrysler – Axle Plant
Chrysler – Dodge Main
Chrysler – Engine Plant
Chrysler – Stamping Plant
Delphi Automotive Systems
Detroit Diesel Corp
Diamond Red Trucks Div.
Dodge Trucks Div.
Dort Motor Car Co
Fisher Body
Ford Motor Co.
Ford Motor Co. – Casting Center
Ford Motor Co. – Engineering Plant
Ford Motor Co. – Rouge River Plant
Ford Motor Co. – Tractor Plant
General Motors Co.
General Motors Co. – Delco Moraine Plant
General Motors Co. – Oldsmobile Plant
General Motors Co. – Pontiac Plant
General Motors – Proving Grounds
General Motors – Technical Center
GMC Coach & Truck Div.
GMC Diesel Equipment Div.
Harrison Radiator Div.
Hayes Body Corp.
Hudson Motor Car Co.
Maxwell Motor Car Co.
Olds Motor Corp.
White Motor Company
Steel and Metal
American Bar & Foundry
American Car & Foundry Co.
Arcadian Copper Co.
Bohn Aluminum & Brass Co.
Brooks Foundry Inc.
Champion Iron & Steel Co.
Cleveland Cliffs Iron Co.
Chrysler Huber St. Foundry
Detroit Copper & Brass
Ford Motor Co. – Steel Div.
General Electric Metallurgical Products Div.
Great Lakes Steel Corp.
Grede Foundries Inc.
Jaxon Steel Products
Marquette Iron Mining
McClouth Steel Co.
Michigan Brass & Iron Works
National Steel Corp.
Pioneer Iron Corp.
Rouge Steel Co.
United States Steel & Wire Co.
White Pine Copper Co.
Chemical Plants
American Chemical Co.
Chrysler Chemical
Dow Chemical Company
E.I. Du Pont Co.
North American Chemical Co.
Stauffer Chemical Co
Wyandotte Chemical Co.
Other Industry
Acme Equipment Co.
Bay Manufacturing Co.
Bryant Paper Co.
Campbell Wyant & Cannon
Detroit Edison Co.
Dow Corning Corp.
Evans Products Co.
Hoffman Engineering Co.
International Paper Corp.
Kimberly Clark Corp.
Mead Papers
Merillat Woodworking Co.
Michigan Alkali Co.
Michigan Electric Light & Power
National Gypsum Co.
Olsen Bodies Inc.
Port Huron Light & Power
Saginaw Manufacturing Co.
Tyco International
Upjohn Co.
Wolverine Construction Co.
MESOTHELIOMA IN MICHIGAN
The heavy use of asbestos by the automotive industry and others has taken its toll on the health of Michigan workers. The state suffers from a very high incidence of mesothelioma, a deadly cancer of the lining of the lungs and abdomen caused by asbestos.
A study by the Centers for Disease control showed that at least 558 Michigan residents died of mesothelioma in the years 1999 to 2005. This gave Michigan the 9th highest rate of mesothelioma death rate in the nation.
Tragically, these high rates of disease are likely to continue well into the next decade.
Mesothelioma has a long latency period, so a person can develop the disease up to 50 years after the initial exposure to asbestos. Even though asbestos is rarely used today, many Michigan residents are diagnosed with mesothelioma every year as a result of past exposures.
MICHIGAN MESOTHELIOMA LAWYER
If you have been diagnosed with mesothelioma, and you believe you were exposed to asbestos in Michigan, we urge you to contact one of our lawyers for a free consultation. We can help you investigate the sources of your exposure, and determine what companies were responsible. You should also be aware that it is important to act quickly if you are considering a lawsuit, because you have limited amount of time to file suit.
Our firm has represented numerous clients who were diagnosed with mesothelioma after being exposed to asbestos on the job in Michigan. We have decades of experience in the asbestos litigation. We will put our expertise to work for you.