KANSAS MESOTHELIOMA LAWYERS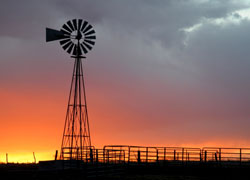 Kansas is known primarily as a farming community where asbestos exposure would be seldom present. However, there are a number of industries in Kansas that used extensive amounts of asbestos. These industries include the aviation industry, power plants, chemical plants, refineries, and steel mills.
Kansas also has a small amount of naturally occurring asbestos. A minimal amount of asbestos mining was done in Kansas, but those mines were closed many years ago and probably would not account for many asbestos-related diseases today.
Asbestos was used as an insulator and fire-proofing material by Kansas' industries. Machinery and equipment were heavily insulated and many workers even wore asbestos gloves and safety suits.
Tragically, many Kansas workers also brought asbestos home on their clothes without realizing it. These workers and their families are at a heightened risk of mesothelioma.
OCCUPATIONS AT RISK
Below is a list of occupations that put Kansas workers at a known risk of asbestos exposure. If you worked in one of these occupations in the 1980s or earlier, there is a good chance that you were exposed to asbestos:
Aircraft Mechanics & Repairmen
Automobile Mechanics
Boilermakers
Chemical Plant Workers
Construction Workers
Electricians
Foundry Workers
Industrial Plant Workers
Insulators
Oil Refinery Workers
Pipefitters
Plasterers
Power Plant Workers
Railroad Workers
Sheetmetal Workers
U.S. Navy Veterans
Welders
JOB SITES WITH KNOWN ASBESTOS EXPOSURE
The following is a list of some of the Kansas job sites where there is a documented use of asbestos products. If you or a family member worked at one of these places, you may be at a heightened risk of asbestos disease.
If you believe that you may have been exposed to asbestos at your own job, please contact a mesothelioma attorney for more information. There are many other job sites in Kansas where asbestos was used.
Power Plants
Gordon Evans Power Station
Kansas City Gas & Electric
Kansas City Power & Light
Lawrence Powerhouse
Quindaro Power Plant
Sunflower Power Station
Tecumseh Power Project
Wichita Power House
Municipal power Plant
Petroleum and Oil Refinery
Amoco Oil
Co-op Petroleum
Co-op Refinery
Derby Refinery
Gulf Oil Co.
Phillips Petroleum
Skelly Refinery
Standard Oil Co.
Aviation Industry
Bendix Aviation Co.
Boeing Aircraft
Beech Aircraft
Chemical Industry
Dupont Chemical
Frontier Chemical
Westraco Chemical
Other Industry
Colgate Palmolive
Co-op Fertilizer
Day & Zimmerman Inc.
Owens Corning Fiberglas
Armco Steel
Monark Cement Plant
National Gypsum Co.
Atchinson Topeka & Santa Fe RR
MESOTHELIOMA IN KANSAS
Kansas suffers more than its fair share of mesothelioma deaths due to asbestos exposures. Mesothelioma is a deadly cancer of the lining of the lungs and abdomen, which is caused by asbestos exposure.
Like other asbestos diseases, mesothelioma has a long latency period. This means that a person usually develops mesothelioma long after the initial exposure to asbestos – usually between 10 to 50 years later. Due to this latency period, the number of Kansas mesothelioma deaths continues to rise even though asbestos is seldom used in Kansas today.
According to the Centers for Disease Control (CDC), there were 159 mesothelioma deaths in the state of Kansas from 1999 to 2005.
KANSAS MESOTHELIOMA LAWYER
If you have been diagnosed with mesothelioma, and you believe you were exposed to asbestos in Kansas, it is important that you contact a skilled attorney with experience in asbestos litigation. In addition, time is of the essence, because you have a limited amount of time to file suit.
We urge you to contact one of our mesothelioma lawyers for a free consultation. We can help you investigate the sources of your exposure, and determine what companies were responsible.