ILLINOIS MESOTHELIOMA LAWYERS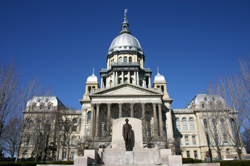 With Chicago as a major transportation hub for both rail and shipping, the state of Illinois became a leader in this country's industrial revolution. Along with the railroads came the steel industry with mills and foundries. The shipping industry brought Illinois the United States Great Lakes Naval Base that was used to train navy seamen. As the population of Chicago and the entire state of Illinois grew with the boom in heavy industry, power plants opened throughout the state.
Workers in Illinois' heavy industry were exposed to asbestos for most of the twentieth century. Machinery and equipment in mills, plants, and foundries were heavily insulated; asbestos was used as a fire retardant throughout industry; and many workers even wore asbestos gloves and safety suits. Likewise, asbestos materials were heavily used in tankers, and in the shipyards that serviced them. As a result, Illinois industrial workers are at a high risk for mesothelioma.
Although the Great Lakes Naval Base was not a shipbuilding and repair facility, navy personnel were routinely exposed to asbestos while stationed and training there. Pipes, boilers, valves, and equipment on Navy vessels were heavily insulated with asbestos.
Asbestos was also used in other Illinois industries. Chemical plants, the automobile industry, and petroleum refineries all made extensive use of asbestos. Tragically, many Illinois workers also brought asbestos home on their clothes without realizing it. These workers and their families are at a heightened risk of mesothelioma.
OCCUPATIONS AT RISK
Below is a list of occupations that put Illinois workers at a known risk of asbestos exposure. If you worked in one of these occupations in the 1980s or earlier, there is a good chance that you were exposed to asbestos:
Aircraft Mechanics & Repairmen
Automobile Mechanics
Boilermakers
Chemical Plant Workers
Construction Workers
Electricians
Foundry Workers
Industrial Plant Workers
Insulators
Longshoremen and Stevedores
Oil Refinery Workers
Pipefitters
Plasterers
Power Plant Workers
Railroad Workers
Sheetmetal Workers
Shipyard Workers
U.S. Navy Veterans
Welders
JOB SITES WITH KNOWN ASBESTOS EXPOSURE
The following is a list of some of the Illinois job sites where there is a documented use of asbestos products. If you or a family member worked at one of these places, you may be at a heightened risk of asbestos disease.
If you believe that you may have been exposed to asbestos at your own job, please contact a mesothelioma attorney for more information. There are many other job sites in Illinois where asbestos was used.
Steel Industry
ACME Steel
Alcoa Aluminum
American Steel
American Zinc Co. of Illinois
Federal Steel
General Steel Industries
Inland Metals Refining Co.
Monarch Foundry Company
National Lead Company
U.S. Steel
Vulcan Mold & Iron Co.
Power Plants
Baldwin Powerhouse
Bechtel Power
Dresden Nuclear Power Plant
Commonwealth Edison
Illinois Power Co.
Quad Cities Nuclear Power Plant
Petroleum and Oil Refineries
Amoco Oil
Marathon Oil
Mobil Oil
Phillips Petroleum
Sinclair Oil Refinery
Texaco Oil
Union Oil Co.
Standard Oil Co.
Chemical Industry
Dow Chemical
Monsanto Co.
Northern Petrochemical Co.
Allied Chemical
Stephen Chemical Co.
Automobile and Automotive-Related Industry
Borg-Warner
Firestone Tire & Rubber
Ford Motor Co.
Other Industry
AE Staley Manufacturing
Allis Chalmers
Burlington Northern, Inc.
Caterpillar Tractor
Celotex Corp.
Chicago Burlington & Quincy RR Co.
Contracting & Material Co.
Crane Co.
International Harvester
John Deere East Moline Works
John Deere Harvestor Works
Jones Optical Co.
McMaster Carr Supply Co.
Monterey Coal Co.
Moorman Mfg. Co.
Owens Illinois Glass Co.
Proctor & Gamble Co.
Quincy Farm Supply
Rural King Supply
Tractors Supply Co.
Texaco Inc.
Uniroyal
Uniroyal Manufacturing Unit
Wateska Rural King Supply
MESOTHELIOMA IN ILLINOIS
The high levels of asbestos used in Illinois industries have taken their toll on the health of Illinois workers, who have one of the highest rates of mesothelioma in the country. Mesothelioma is a deadly cancer of the lining of the lungs and abdomen, which is caused by asbestos exposure.
Like other asbestos diseases, mesothelioma has a long latency period. This means that a person usually develops mesothelioma long after the initial exposure to asbestos – usually between 10 to 50 years later. Due to this latency period, the number of Illinois mesothelioma deaths continues to rise even though asbestos is seldom used in Illinois today.
According to the Centers for Disease Control (CDC), there were 892 mesothelioma deaths in Illinois from 1999 to 2005. This ranks Illinois as the sixth highest state in the country for mesothelioma deaths during this time span.
ILLINOIS MESOTHELIOMA LAWYER
If you have been diagnosed with mesothelioma, and you believe you were exposed to asbestos in Illinois, it is important that you contact a skilled attorney with experience in asbestos litigation. In addition, time is of the essence, because you have a limited amount of time to file suit.
We urge you to contact one of our mesothelioma lawyers for a free consultation. We can help you investigate the sources of your exposure, and determine what companies were responsible.