CALIFORNIA MESOTHELIOMA LAWYERS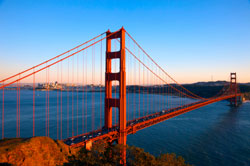 California is the third largest state in size and at nearly 40 million residents, has the largest state population. With its Pacific coastline, California has had four U.S. Naval Shipyards, and numerous private shipyards. California was also the site of many asbestos manufacturing plants, asbestos mines and petrochemical factories and refineries.
Asbestos insulation was heavily used in the shipbuilding and ship repair industries. Asbestos cancers, including mesothelioma, have arisen from many work forces, including those of Hunters Point Naval Shipyard in San Francisco, Mare Island Naval Shipyard in Vallejo, Long Beach Naval Shipyard, San Diego Naval Station, Todd's Shipyards in Los Angeles, Oakland and San Francisco, Bethlehem Shipyard in San Francisco (in operation from 1905 to 1941), in Alameda (in operation from 1916 to 1956) and in San Pedro (aka Southwest Marine Terminal, in operation from 1940 to 1981) and General Dynamics NASSCO shipyard in San Diego.
Various asbestos manufacturers operated plants in California, including Johns-Manville (with plants in the cities of Stockton, Long Beach, Lompoc and Pittsburgh, California), Owens-Corning, CertainTeed and others. Even the mining of raw asbestos took place in California at the Union Carbide-operated mines in King County.
Asbestos insulation was also heavily used in oil refineries, petrochemical plants, as well as the construction industry and in power plants.
OCCUPATIONS AT RISK
Below is a list of occupations that put California workers at a known risk of asbestos exposure. If you worked in one of these occupations in the 1980s or earlier, there is a good chance that you were exposed to asbestos:
Aircraft mechanics & repairmen
Automobile mechanics
Boilermakers
Chemical Plant Workers
Construction Workers
Drywall Workers
Electricians
Foundry Workers
Industrial Plant Workers
Insulators
Longshoremen and Stevedores
Oil Refinery Workers
Pipefitters
Plasterers
Power Plant Workers
Railroad Workers
Sheetmetal Workers
Shipyard Workers
U.S. Navy Veterans
JOB SITES WITH KNOWN ASBESTOS EXPOSURES
The following is a list of some of the California job sites where there is documented use of asbestos products. If you or a family member worked at one of these places, you may be at a heightened risk of asbestos disease.
If you believe that you may have been exposed to asbestos at your own job, please contact a mesothelioma attorney for more information. There are many other job sites in California where asbestos was used.
Shipyards
AAA Shipyard, Alameda
AAA Shipyard, San Diego
AAA Shipyard, San Francisco
California Navy Shipyard
Campbell Industries Shipyard, San Diego
Conrad Industries
Consolidated Steel Shipyards
General Dynamics NASSCO, San Diego
Hunters Point Naval Shipyard
Kaiser Shipyard, Richmond
Long Beach Naval Shipyard
Mare Island Naval Shipyard
Moore Dry Dock
Naval Air Station
National Steel & Shipbuilding Co.
Naval Weapons Station
Richmond Shipyards
Rough & Ready Island Ship Repair
San Diego Naval Shipyard & Air Station
San Francisco Bay Naval Shipyard
San Francisco Drydock
Southwest Marine (aka Bethlehem Shipyard San Pedro)
Terminal Island Naval Operating Base
Terminal Island Naval Shipyard
Todd Shipyards Los Angeles
Todd Shipyards Oakland
Todd Shipyards San Francisco
U.S. Naval Construction Battalion Center
Western Shipyard
Mines & Smelters
Union Carbide Mines, King County
American Smelting & Refining, San Francisco
American Smelting & Refining, Selby
American Smelting & Refining, Crockett
Pacific States Steel Corp.
Refineries
ARCO (Atlantic Richfield) Carson
ARCO (Atlantic Richfield) Gardena
ARCO (Atlantic Richfield) Long Beach
ARCO (Atlantic Richfield) Taft
ARCO (Atlantic Richfield) Wilmington
Chevron, Richmond
Mobil Oil, Los Angeles
Mobil Oil, Torrence
Richfield Oil, Watson
Shell Oil, Pasadena
Union Oil, Olevim
Power Plants
Pacific Gas & Electric, Antioch
PG&E, Pittsburgh, CA
PG&E, Moss Landing
San Diego Gas & Electric, Carlsbad
San Fernando Powerhouse
San Onofre PowerPlant
Scattergood Powerhouse, El Segundo
Southern California Edison/Oxnard
Southern California Edison/Huntington Beach
Southern California Edison/Redondo Beach
Southern California Edison/El Segundo
Other Industries 
Aeroben Inc.
Aerojet General Corp.
AES Alamitos, Long Beach
AES Huntington, Huntington Beach
AES Redondo Beach
California Division of Highways, L.A.
City of Los Angeles
Costal Ag-Chem
Coastox Inc.
Edwards AFB
E.I. Dupont De Nemours & Co.
Ferro Corp.
Fisher Body Div.
Ford Motor Co.
Frank Olocco – Agri Pest Control
Fruit Growers Express Co.
Global Associates
International Harvester Co.
Johns-Manville Products Corp.
Kaiser Cement & Gypsum Corp.
Kaiser Steel Co.
Morris P. Kirk & Sons Inc.
Muttay Industrial Supply Co.
Northrop Corp. – Norair Division
Oakland Army Base
Orchard Supply Hardware
Phillipine Air Lines
Port Packing Center WHS ES805, Oakland Army Terminal
Proctor & Gamble Mfg. Co.
Riverside Division American Chemical Corp.
San Francisco Cash Sale
Sierra Army Depot
Soil Service Inc.
Southern Pacific Co./ Sacramento Pacific Co.
State of California
Stauffer Chemical Co.
Ted Cox Welding Supply
MESOTHELIOMA IN CALIFORNIA
The high levels of asbestos used in California industries have taken their toll on the health of California workers, who have one of the highest rates of mesothelioma in the country. Mesothelioma is a deadly cancer of the lining of the lungs and abdomen, which is caused by asbestos exposure.
Like other asbestos disease, mesothelioma has a long latency period. This means that a person usually develops mesothelioma long after the initial exposure to asbestos, usually between 10 and 50 years later. Due to this latency period, the number of California mesothelioma deaths continues to rise even though asbestos is seldom used in California today.
According to the NIOSH, California has the highest rate of asbestos disease in the country as of 2002. These deaths were highly concentrated in the cities of Los Angeles and San Diego, Orange County, Contra Costa, Alameda, and San Mateo. Between 1979 and 2001, at least 4,273 Californians died of mesothelioma or asbestosis.
CALIFORNIA MESOTHELIOMA LAWYER
As a result, workers in all these industries were exposed to significant amounts of asbestos dust until the mid to late 1970s and sometimes into the 1980s. If you have been diagnosed with mesothelioma and you believe you were exposed to asbestos in California, please contact one of our mesothelioma lawyers. We can help you investigate the source of your exposure, and determine what companies were responsible.