For over 100 years, Electric Boat, a subsidiary of General Dynamics Corporation, has played a pivotal role in supporting and maintaining the country's fleet of submarines.  This company has shipyards  in both Groton, Connecticut, and Rhode Island, which together employ about 10,700 workers.  At least for the foreseeable future, however, Electric Boat will be carrying out its work with a smaller work force on the waterfront.  Because of a reduction in modernization and maintenance of submarines, there will be  hundreds of layoffs among the trades such as carpenters and other construction trade workers.  Fortunately, this reduction will be offset by needs in other areas.
The Company executives estimate between 400 to 600 layoffs and 100 to 200 furloughs are possible in the year 2010, but these layoffs will be offset by the need to hire 300 to 400 new engineers and designers.  In addition to working on a surface ship program in conjunction with Northrop Grumman, these new employees will be carrying forward Electric Boat's tradition of working at the cutting edge of submarine design as they develop the next generation of ballistic missiles.
A Series of "Firsts"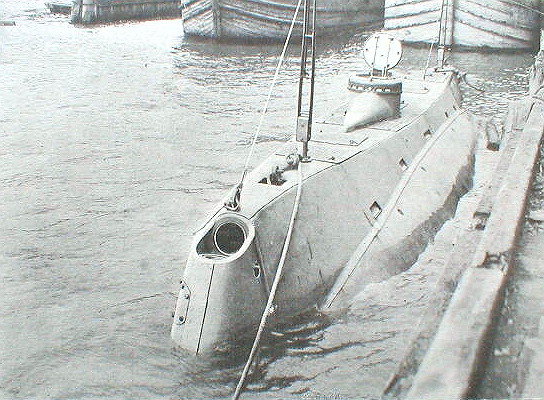 USS Holland (SS-1)
The Electric Boat Company, founded by Isaac Rice in 1899, has been at the forefront of submarine construction since its inception.  The first submarine to be purchased and commissioned into the United States Naval Service was the USS Holland SS-1 built at this shipyard.  The Holland was originally named the Holland VI after its inventor John Philip Holland.  Interestingly, this submarine had many of the design features that appeared in subsequent submarines  in more advanced forms, including an internal combustion engine for surface operation and an electric motor for submerged operation.
The company continued its outstanding service during both world wars.  During World War I, Electric Boat received orders to build 85 submarines for the US Navy and built 74 submarines during World War II.  More than half of the Gato class and many Balao class Submarines were built by Electric Boat Company, including the USS Gato SS-212, USS Darter SS-227, USS Scorpion SS-278, USS Perch SS-313, USS Sealion SS-315, USS Bugara SS-331 and USS Capitaine SS-336.
In 1951 the company received the contract to build the first nuclear-powered submarine, the USS Nautilus SSN-571.  This submarine was christened by then First Lady Mrs. Eisenhower and launched in 1954.  Among her many firsts, the USS Nautilus was the first submarine to reach the geographic North Pole on August 3, 1958 and to go on to complete a submerged transit of the North Pole.
Electric Boat also achieved another first when the first ballistic-missile submarine, the USS George Washington SSBN-589, was built there in 1959.  In July, 1960, this submarine conducted the first Polaris missile launch from a submerged submarine which added significantly to our country's deterrent forces.
Asbestos Use at Electric Boat Company
The submarines built at Electric Boat from the 1940s through the mid 1970s contained many pounds of asbestos insulating products.  The shipyard workers who constructed these submarines were exposed to the hazards of asbestos on a daily basis.  Submariners who later served on these subs were exposed to asbestos dust generated through the routine operation and maintenance of asbestos-covered equipment, piping and machinery.  These submariners and shipyard workers are at risk of developing mesothelioma and other asbestos-related diseases because of their exposure to asbestos.