Billions of dollars are lost each year to financial elder abuse, and, sadly, the damage often goes beyond the pocketbook—neglect, physical abuse, emotional and sexual abuse are rampant.
GDW attorney Anthony Carr went on the Rick Hamada Show on KHVH today to spread awareness of this critical yet little-known issue. Simply click play to hear the interview:
In 2014, the Hawai'i Adult Protective Services branch reported 801 cases of elder abuse, but most cases go unreported, and it's safe to say that the true number of cases last year is ten to twenty times higher. 85+ is the fastest growing age group in America, which means that the problems will only increase over the coming years.
We've had the unfortunate honor of litigating several elder abuse cases against local senior care homes, and as we've dug in and started learning more about elder abuse and some of the numbers, we learned how troubling they were and so we want to take it upon ourselves on this day to hopefully contribute to the awareness and spread some information that might help some local families make more informed decisions when they do play their loved ones in local care facilities.

—Anthony Carr, Attorney at GDW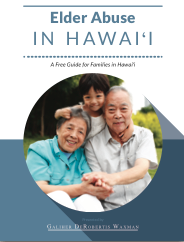 Compounding the problem is the low public awareness of these issues. Prevention is difficult, but if we put the information out there, we can help give our seniors the protection they need and deserve. Check out our new website, with information about the issues, as well as the free Elder Abuse in Hawai'i Guide. They have information such as what to ask a care home if you're thinking of placing an elderly relative there, as well as community resources that can help if you think abuse may have occurred.
To learn more about this widespread problem, please click the image to the left to download a free copy of the guide, or click the following link to visit our new website: https://galiherlaw.com/elders